TISSNET Usually ask questions on culture and heritage sites. UNESCO heritages sites are definitely important to be asked in TISSNET GK.

The United Nations Educational, Scientific and Cultural Organization (UNESCO) World Heritage Sites are important places of cultural or natural heritage as described in the UNESCO World Heritage Convention, established in 1972.
There are 38 World heritage sites located in India. These include 30 cultural sites, seven natural sites and one mixed-criteria site. India has the sixth largest number of sites in the world.
1.Taj Mahal, Agra
One of Seven Wonders of the World, White Marble Mughal Architecture, the Taj Mahal was built by Emperor Shah Jahan in the memory of his wife, Mumtaj. It was completed in 1653 with the estimated cost of 32 million Indian rupees which would today stand up to 58 billion Indian rupees.
2. Khajuraho, Madhya Pradesh

Khajuraho is a unique heritage site which is renowned for a group of Hindu and Jain Temples situated 175 km south-east of Jhansi. They are well known for their Nagara style symbolism and erotic figures and sculptures. It consists of a total of 85 Temples spread across an area of 20 sqkm.
3. Hampi, Karnataka
It lies within the ruins of the ancient, prosperous kingdom of Vijayanagar. The ruins at Hampi are a collection of heritage sites depicting the excellent Dravidian style of art and architecture.
4.Ajanta Caves, Maharashtra
The Ajanta Caves date back to around 2nd century BCE to 650 CE and consist of the most beautiful masterpieces of 31 rock-cut Buddhist cave monuments, paintings and sculpture.
5. Ellora Caves, Maharashtra
Famous for Buddhist, Jain and Hindu Temples and Monasteries, Caves Excavated out of Hills, Rock-cut Architecture. There are about 34 rock-cut temples and caves which can be dated to about 600 to 1000 AD, are essential in terms of understanding the lives of the people living in these times
6. Bodh Gaya, Bihar
It's an important religious center for the Buddhists as this was the place where Mahatma Buddha attained enlightenment. The holy Bodhi Tree is the site where Siddhartha gained Enlightenment and became Gautam Buddha.
7. Sun Temple, Konark, Odisha
It was built by King Narasimhadeva I of the Eastern Ganga Dynasty in around AD 1250. The Sun Temple is in the shape of a gigantic chariot with carved stone wheel, pillars and walls and is led by six enormously carved horses. It's also considered to be one of the largest brahmin sanctuaries in India.
8. Red Fort Complex, Delhi
The Red Fort was built by Emperor Shah Jahan when he shifted his capital from Agra to Delhi, or what was known as Shahjahanabad at that time.
9. Sanchi, Madhya Pradesh
The Buddhist Monuments located at Sanchi in Madhya Pradesh are a manifestation of Heritage of India, and they are the oldest stone structures in India. Famous for Monolithic Pillars, Palaces, Temples and Monasteries, Mauryan Architecture, Ye Dharma Hetu Inscriptions.
10.Chola Temples, Tamil Nadu
Famous for Chola Architecture, Sculpture, Painting and Bronze Casting. These temples were built in Southern Part of India during the rule of Chola Empire. The Brihadisvara Temple, the Temple at Gangaikonda Cholapuram and the Airavatesvara Temple are the most important of all of these temples.
11. Kaziranga Wild Life Sanctuary, Assam
Famous for Worlds 2/3rd Great One-Horned Rhinoceroses, Highest Density of Tigers in World, Elephants, Wild Water Buffalo, Swamp Deer and recognized Important Bird Area.
12. Group of Monuments at Mahabalipuram, Tamil Nadu
Famous for Largest Open Air Rock Relief, Chariot Temples, Mandapas, Pallava Dynasty Architecture. The group of the monument includes 40 sanctuaries including the largest open-air-bas-relief, e.g., Ganga's Descent.
13. Sundarbans National Park, West Bengal
Famous for Biosphere Reserve, Largest Estuarine Mangrove Forest, Bengal Tiger and Salt-Water Crocodile, Shared with Bangladesh. It's the world's largest mangrove forest reserve. The tiger population of India is the maximum in this location.
14. Humayun's Tomb, New Delhi
Famous for Precursor to Taj Mahal, Mughal Architecture, A Tomb, Many Water Channels, A Pavilion and A Bath.
15. Jantar Mantar, Jaipur, Rajasthan
Famous for Architectural Astronomical Instruments, Maharaja Jai Singh II, Largest of its kind Observatory. It is a collection of 19 astronomical instruments including the world's largest stone Sundial.
16. Agra Fort, Uttar Pradesh
Situated quite close to the Taj Mahal, the Agra Fort is one of the most important monumental structures built by the Mughal Empire.
17. Fatehpur Sikri, Uttar Pradesh
The name of the city itself denotes the victory (Fateh) of Akbar over Chittor and Ranthambore, Fatehpur Sikri constitutes of four main Monuments.
18. Rani Ki Vav, Patan, Gujarat
Built-in the 3rd millennium BC in the memory of the kings, it's an explicit example of beautiful Ancient Indian architecture. It was recently declared as a UNESCO World Heritage site in 2014, owing to its architectural marvel and splendour. Rani-ki-vav is well known for its Stepped Corridors, Sculptures and Stone Carvings in the Well.
19. Group of Monuments at Pattadakal, Karnataka
It is famous for its Chalukya style of architecture that originated in Aihole and blended with the Nagara and Dravidian styles of architecture. It includes eight temples dedicated to Lord Shiva and Jain and Shaivite sanctuaries.
20. Elephanta Caves, Maharashtra
Famous for Hindu and Buddhist Caves, Caves on Island in the Arabian Sea, Basal Rock Caves, Shiva Temples The chain of sculpted caves located on Elephanta Island is also known as Gharapuri.
21. Nalanda Mahavihara (Nalanda University), Bihar
Nalanda vouched for the evolution of Buddhism as a religion and remained an abode of knowledge for 800 years.
22. Chhatrapati Shivaji Maharaja Terminus (formerly Victoria Terminus), Maharashtra
Famous for Central Railways Headquarter, Terror Attacks on Mumbai in 2008, Gothic Style Architecture.
23.Mountain Railways of India
The mountain railways of India comprise of the Darjeeling Himalayan Railway, the Nilgiri Mountain Railway and the Kalka-Shimla Railway and are a part of the World Heritage Sites in India.
24. Qutub Minar and its Monuments, New Delhi
Includes Qutub Minar, Alai Darwaza, Alai Minar, Qubbat-ul-Islam Mosque, Tomb of Iltumish, and Iron Pillar. It was built by Aibak to honor the famous Sufi saint Qutbuddin Bakhtiar Kaki.
25.Champaner-Pavagadh Archaeological Park, Gujarat
It includes 11 different types of heritage monuments that are- Mosques, Temples, Tombs, Gateways, Fortresses and walls, Palaces and Pavilion, Helical Wells, Custom house all belonging to the 16th century.
26. Great Himalayan National Park, Himachal Pradesh
Great Himalayan National Park is one of India's National Parks located in the Kullu region of Northern Himachal Pradesh. The park includes the upper mountain snowmelt and glacial water melt origins of several rivers, mainly the tributaries of the river Indus.
27. Hill Forts of Rajasthan
One of the recent additions to the list of World Heritage Sites in India (2013), this place is famous for its unique Rajput Military Defense Architecture. It includes six majestic forts in Chittorgarh, Kumbhalgarh, Ranthambore Fort, Gagron Fort, Amber Fort and Jaisalmer Fort. It is also known for being the shooting location of the movie, The Dark Knight Rises and a few films of Satyajit Ray like 'Shonar Kella'.
28. Churches and Convents of Goa
Famous for Rome of the Orient, First Manueline, Mannerist and Baroque Art Forms in Asia, First Latin Rite Mass in Asia.
29. Rock Shelters of Bhimbetka, Madhya Pradesh
Famous for Rock Paintings within Natural Rock Shelters, Stone Age Inscriptions, Sitting Place of Bhima (Mahabharata). The Rock Shelters of Bhimbetka is the place where the earliest traces of human life on the Indian subcontinent was discovered.
30. Manas Wild Life Sanctuary, Assam
Famous for Project Tiger Reserve, Elephant Reserve and Biosphere Reserve, Assam Roofed Turtle, Hispid Hare, Golden Langur and Pygmy Hog.
31.Keoladeo National Park, Bharatpur, Rajasthan
Famous for Man-Made Wetland Bird Sanctuary, Siberian Cranes, Hotspot for Ornithologists. Also known as Bharatpur Bird Sanctuary
32. Nanda Devi and Valley of Flowers National Parks, Uttarakhand
Famous for Asiatic Black Bear, Snow Leopard, Brown Bear, Blue Sheep and Himalayan Monal, World Network of Biosphere Reserves. The Nanda Devi is the highest mountain peak of Uttarakhand and the highest mountain peak of India also because the Kanchenjunga is known to share its border with Nepal.
33. Western Ghats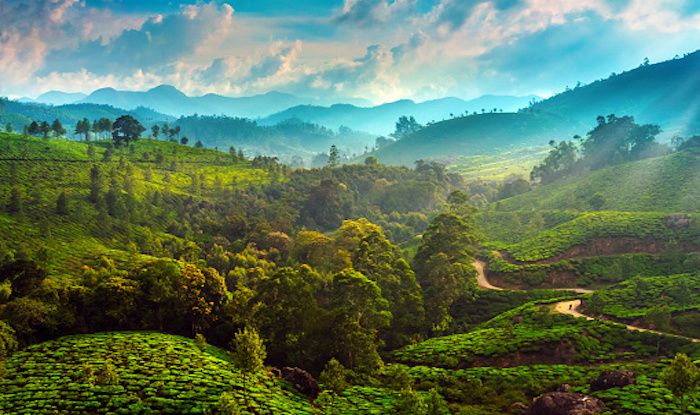 Includes Sahyadri Sub-Cluster, Kudremukh Sub-Cluster, Talakaveri Sub-Cluster, Nilgiri sub-cluster, Anamalai sub-cluster, Periyar Sub-Cluster and Agasthyamalai Sub-Cluster
Famous for Among World's Ten "Hottest Biodiversity Hotspots", Includes many National Parks, Wildlife Sanctuaries and Reserve Forests.
34. Kanchenjunga National Park, Sikkim
Khangchendzonga National Park has been declared a world heritage site in 2016. Kangchendzonga National Park includes the Kanchenjunga Peak, which is the 3rd highest peak in the world.
35. Capitol Complex, Chandigarh
The architectural work of Le Corbusier across many countries, including the Capital Complex of Chandigarh, was recognized as a World Heritage Site as part of an outstanding contribution to Modern Movement.
36. The Historic City of Ahmedabad
The first city of India to enter the list, Ahmedabad was declared as the World Heritage City on July 8, 2017. The city of Ahmedabad has close to 25 ASI (Archaeological Survey of India) protected structures.
37. The Victorian and Art Deco Ensemble of Mumbai
Added to the list of Heritage Sites in June 2018, The Victorian and Art Deco Ensemble of Mumbai is a collection of 94 buildings of great cultural importance, located in the Fort Area of Mumbai, set around the Oval Maidan, previously known as Esplanade.
38. The Pink City – Jaipur
With the newest addition to the list of UNESCO world heritage sites in India, Jaipur joined the club on 6th June 2019. It is one of the largest cities in India and is surrounded by walls and gates decorated with drawings on the backdrop of a beautiful pink hue, Jaipur, the pink city successfully manages to retain its old-world charm.
Kumbh Mela
In 2017, Kumbh Mela. The largest religious festival in India got the status of UNESCO Intangible Cultural Heritage of Humanity. Kumbh Mela is celebrated once in three years in Haridwar, Ujjain, Prayag (Allahabad) and Nasik in a rotation. Kumbh Mela returns to a place after 12 years. It witnesses millions of devotees and spectator
Check-out Complete Comprehensive course for TISSNET/TISSMAT with 10 Mock Tests